Fall Update
September has rolled around in a hurry, and it feels like time to check in with you all. I hope your summer has been peaceful and productive. Here in Vermont we've had plenty of reminders over the last couple of months about the power of Mother Nature, as well as her beauty. Now, we're heading deeper into September and October, and I think we're all hoping for beautiful foliage (only) as we prepare for the beauty of winter!
I've been reflecting throughout August – which marks the first year in our new home in Burlington, our "treehouse" – about the intangible costs of moving. We moved a fair amount when I was a kid: born in Germany, to Ottawa at 4, the Maritimes at 8, back to Ottawa at 11… I seem to have repeated some of the moving as an adult, to Cincinnati, then Athens (Ohio), then west Michigan, the northern NY, and now Burlington. There is a certain flexibility and self-reliance that comes from moving a lot. And there is a similar kind of self-sufficiency that can end up being a little isolating. It is not always easy to leave old friends and make new ones, to leave welcoming communities and find new ones, to build support networks, to seek out the things that enrich life and create fun. There is always an emotional and spiritual cost.
Survive – Alive – Thrive
My mother, who becomes wiser the older I get, once told me that moving humans is like moving plants. In the first year, the goal is to survive, to adapt to the new soil and find as many ways to get essential sustenance as possible. In the second year, the plant is alive, extending its roots and starting to be able to withstand shocks and difficult stretches. In the third year, the plant thrives.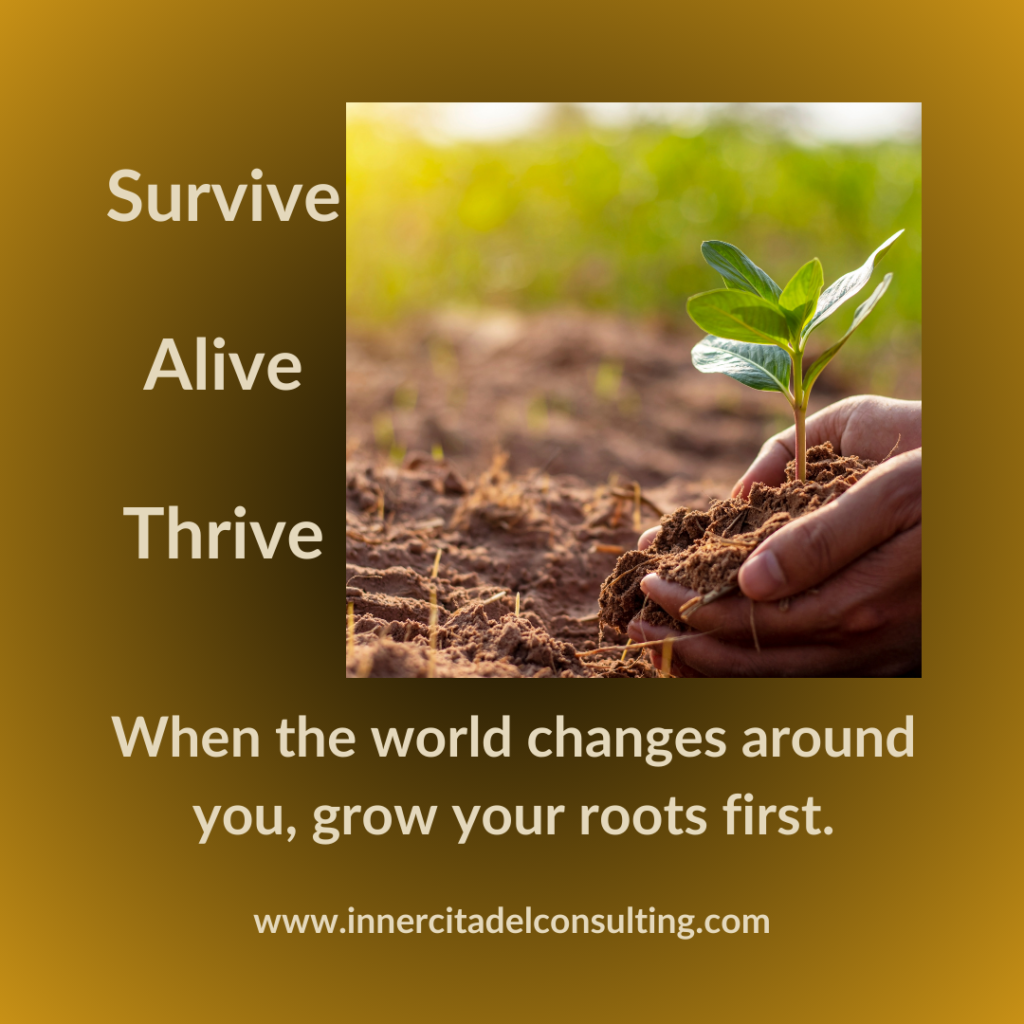 This first year in Vermont, building my business more or less from the ground up again has not been without its challenges. But there is rich soil in this brave little state! And Inner Citadel Consulting is definitely a plant that brings good fruit to its clients. I've been very fortunate to have met some amazing people by networking and connecting and have done some good work with a few local teams . My out-of-state and international clients have also grown. Many of the lessons I learned in ICC 1.0 carried through into ICC 2.0. I am so grateful to be meeting the needs of teams and individuals through emotional intelligence training and organizational mindfulness as well as through executive coaching. The hot and wet summer months brought with them a lot of growth and new opportunities, and the fall months are already looking very colorful on my calendar.
Growing is hard work
I started the year with an ambitious set of goals focused on relationship building and exposure. I'm very pleased to report that I've already met most of those goals. Since my last newsletter I've continued to build relationships and have done good work with organizations in Vermont and New Hampshire; I've been invited to contribute a chapter on Emotional Intelligence in Libraries; I've participated in several high-visibility events, including a very popular session at the New Hampshire Center for Non-Profits Conference and a keynote for the North Country Chamber of Commerce Business Expo. I've been very active in the North Country Chamber's Leadership training series and have been busy doing exciting work with the Lake Champlain Chamber of Commerce leadership programs and LaunchVT. I've just partnered with the Upper Valley Business Alliance too. This week I'll be leading a session at the Vermont SHRM Conference in Burlington, and later this fall I'll be speaking with the MedTech Collaborative and with the Burlington Young Professionals network.
ECHOES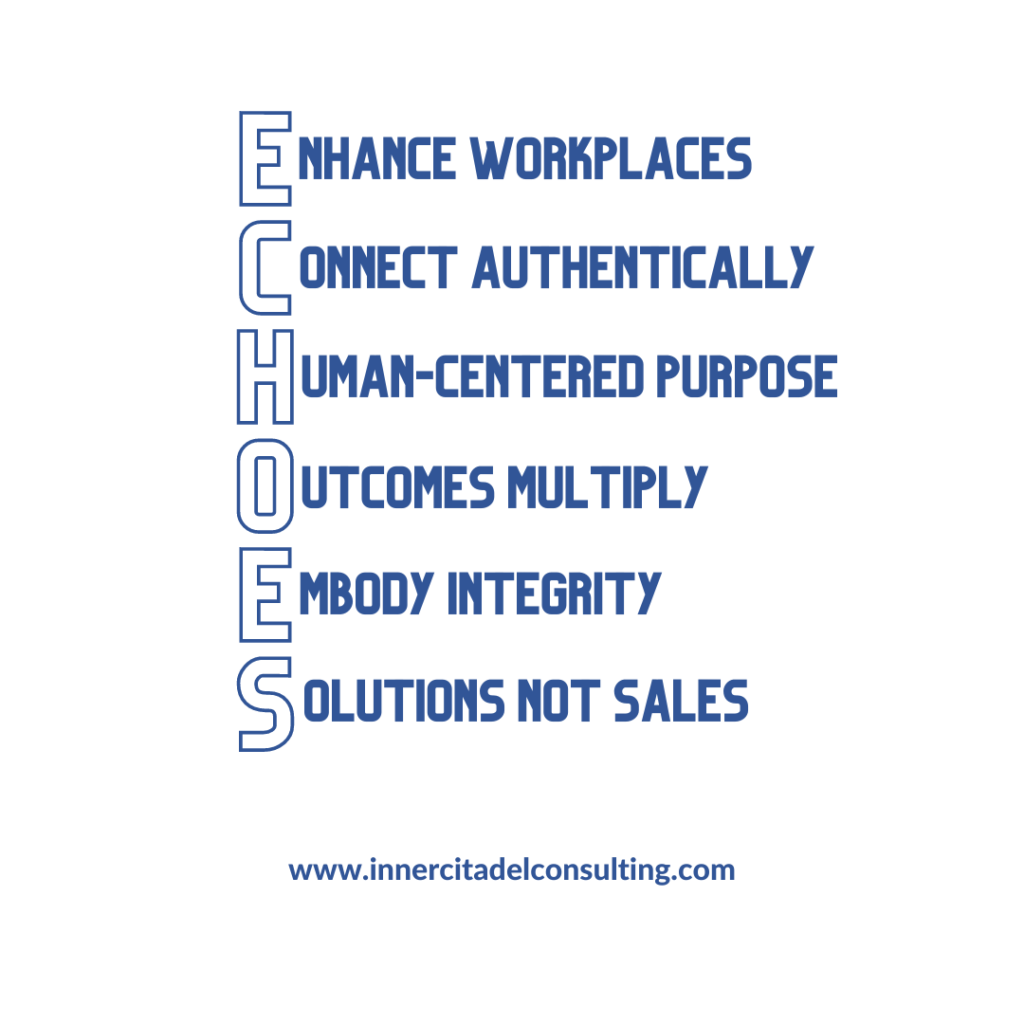 My year was shaped by my 2023 core goals (E.C.H.O.E.S) and I realized this August that those core goals I chose for myself in the dead of winter are the goals that lie at the root of what I have been creating in my work. This was not a conscious choice on my part – it is the kind of clarity and "coincidence" that a mindful approach to work and life can bring. My heart spoke, my head happened to be listening, and I've been continuing to put it all together, with your help.
So, this fall is full of good things and interesting work, for which I am immensely grateful. And as the year turns, I am ready to embrace "alive", to stretch out my roots personally and professionally so that I can more firmly grow into this part of the world I love so much.