I sent this letter to clients I worked with in 2022.
Happy New Year!! I wish you and your loved ones health, peace, and prosperity in 2023. In the words of Epiktetos the Stoic philosopher, may you have a "good flow of life" in the coming year.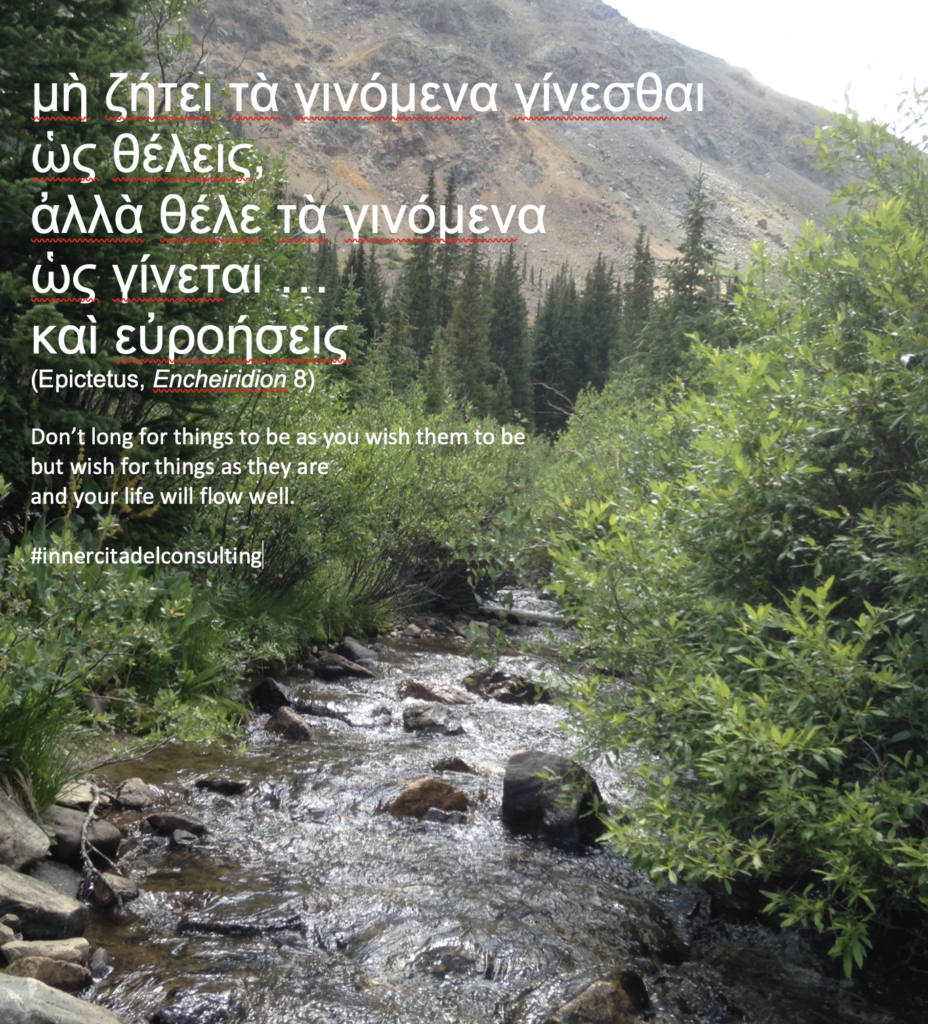 As the year turned over, I (like many) took some time to reflect. My journey as a solopreneur was not always easy in 2022. But, as is often the case when I seek some perspective, the most difficult thing about the year – moving our home from New York State to Vermont and restarting my business here – was also the most wonderful. We are settled in our happiest place, Burlington. I am meeting a ton of interesting people who want to talk about EI and mindfulness at work. And I wake up seeing the sun rise over the Green Mountains to the east and watch the sun set over the Lake and the Adirondacks to the west.
Most of all, however, I am grateful and deeply appreciative of the time I have spent with you, whether it was coaching or training. I become more and more convinced that emotional intelligence and organizational mindfulness are a powerful set of skills and tools to create positive culture, reduce anxiety and stress, resolve conflict, and help us engage with our leadership development (and problems!) holistically and with human-centered design in mind. My friends in higher education often ask me whether I'm happy doing the work I do now. Unequivocally, yes! And that is because of the amazing people I have the privilege to work with, as we explore the value for the workplace of ideas, mindsets and ways of being that I have found so valuable in my personal life. As I have started saying, EI and mindfulness aren't magic pills, but they're fantastic multi-vitamins!
In 2022, my gratitude practice was to work with 3 non-profits on EI training and to offer over 12 hours of small business coaching to other solopreneurs in the Adirondacks, pro bono. Just as my gratitude has increased, my pro bono work will increase this year also. I have pledged to do EI or organizational mindfulness trainings pro bono for any public-facing non-profit in Vermont or New Hampshire. If you know of any organizations (especially smaller social action groups that might not have funds for development and where the impact can be extended), please pass them on to me. And please spread the word!
I have exciting things planned for 2023 in other areas too! In addition to expanding my offerings in organizational mindfulness and returning to regular blogging on a rebuilt website, I will be launching a leadership course based in Stoicism on the Teachable platform. Look for teasers to start in February, with an expected start date in June. You can follow me on LinkedIn, Instagram, or here on my blog. I hope you'll enjoy my latest post, which connects PickleBall, Tai Chi, Mindfulness, and that fantastic Staples Sisters hit, Respect Yourself. I know you're curious…
As always, I would love to hear about your own ongoing successes and challenges. And if you or a colleague or friend has hit a tough spot or a knotty issue, I am very happy to schedule a half-hour chat to work through it any time. I am here when you are ready to reach out!
I'll sign off with a quote from a favorite book when the kids were young, Dinotopia by John Gurney…
Breathe deep, seek Peace!